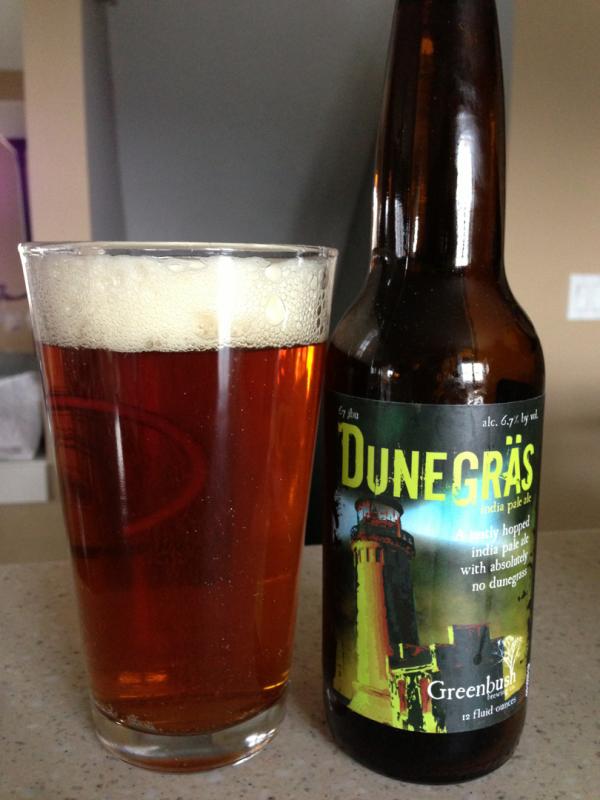 Not my image! It is a nice shot of the beer though.
Greenbush Brewing Company - Dunegras
Beer Type: American IPA - 6.70% ABV




Appearance: Another unique looking label in what I now think of as the Greenbush style. 12 oz brown bottle with the beer pouring a cloudy reddish brown. Just a little bit of head but it left some nice lacing.




Smell: Pine and resinous hops, a bit of grassy smell, something a bit spicy and citrus? Smells good.




First Drink: Malt up front then a bit of sour citrus followed by a little of the grassy flavor I smelled in the aroma. Not bad!




Mouthfeel: A little oily and sticky for me, but the overall feel is medium bodied, and the carbonation is nice.




Last Drink: More of the same just bigger! More sour citrus, more sweet maltness, and a hint of peppery/grassy flavor with a solid bitter finish.




Drinkability: Oddly drinkable but not particularly memorable. We're spoiled for tasty Michigan IPAs here and this would not be my go to any time soon.




Notes: Second been I have had from this brewery and I am still not "wowed". It's not bad but I'd take some Short's over this right about now.




Verdict: 3.75 out of 5. Love the theme and look of this brew but the price is a bit steep for this level of complexity.